FRIENDS OF HOPE VALLEY WORK DAY & BENEFIT CONCERT
If you enjoy all the recreational fun in Hope Valley, consider giving a bit of time to help out. This is a great way to spend some time in a very beautiful place. The information below is courtesy of Friends of Hope Valley:
Friends of Hope Valley's annual workday is June 10th… at 9:00am. Participants will meet at Pickett's Junction (Hwy 88/Hwy 89) in Hope Valley. Join in a work party of their choice. Projects include watershed habitat improvement, general clean up and fence repair. FOHV members are welcome to stay and attend the general membership meeting at noon. Please mark your calendars and join us. Bring work gloves, shovels, and fencing pliers.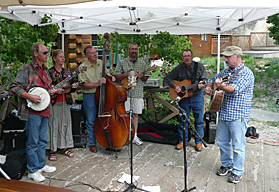 June 11th…The Back Forty Bluegrass band will returns to the Friends of Hope Valley benefit concert. This event will take place at Sorensen's Resort located on Highway 88 in Hope Valley. Accompanying the Back Forty will be "local folkies" The Ten Dollar Pony, Larry Nair and Beth Oliverto. Based in Gardnerville, they play a lively blend of original and cover tunes.
Spend an afternoon in a beautiful setting at Sorensen's Resort. Good music and good food will be guaranteed. Sorensen's Resort is generous enough to host this event and match the funds raised. $10 donation requested. No host BBQ…. 1pm to 4pm

Check out Sorensen's Resort for more events and information

Posted in education, families, Outdoor Recreation, outside treks